High speed friction feeders for mailing, printing and packaging
Straight Shooter revolutionized the friction feeder industry with our exclusive Buckle Separation technology! By eliminating the high-friction nip point common on other feeders, Straight Shooter feeders offer versatility, simplicity and ease of use that can't be found anywhere else!
Check out what else separates Straight Shooter from the competition:
Repositionable feed belts - Your material changes. Shouldn't your feeder?
Complete paper guides that guide your material all the way through!
Reversable back wedge with position, angle, and height adjustments
5 minute belt changes! No more expensive calls or lengthy downtime!
Multiple, independently adjustable seperators. Easily handle pieces with variable thickness!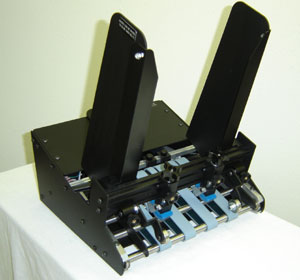 C-12 Continuous Feeder
Ideal for ink jetting, tabbing, folding and any application requiring high speed continuous feeding of single pieces.
Specs:
12" wide capacity.
Up to 3/8" thick!
Repositionable belts and separators.
5 minute belt changes!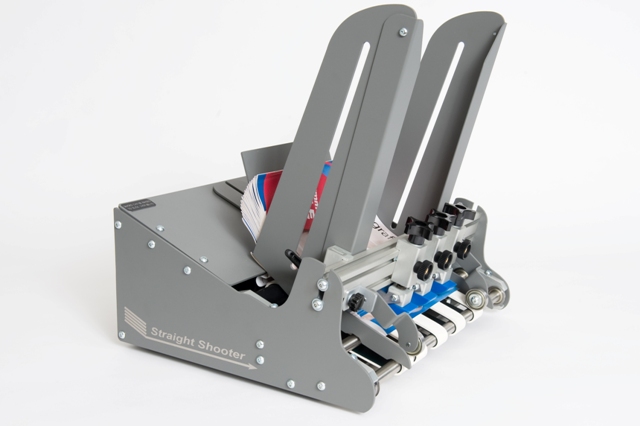 R-14 Continuous Feeder
The R-14 is the newest addition to the Straight Shooter line. Featuring a 14" wide capacity, the R-14 can handle the big stuff!
Specs:
14" wide capacity.
Up to 3/8" thick!
Wide format feeding with a small footprint.
5 minute belt changes!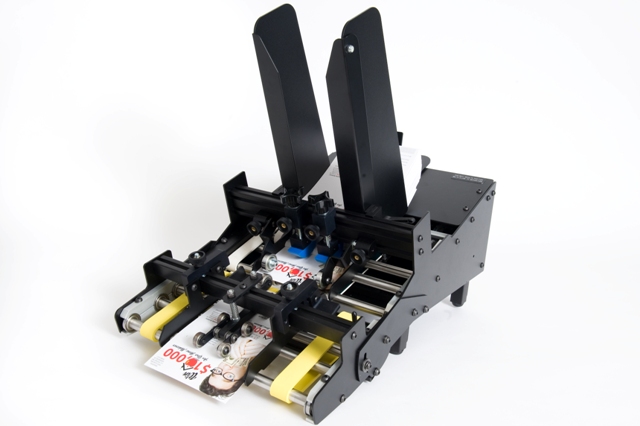 D-12 demand feeder
The D-12 single shot feeder is the affordable solution when you need to feed a document into a lugged collator or inserting machine!
With our unique adjustable angle acceleration table, the D-12 can be customized to shoot the document into your equipment at the optimum angle!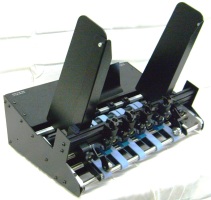 C-20 wide format feeder
The C-20 gives you all the great features of our other feeders in a wide format! Handles documents up to 20" wide by 18" long!
Big Feeder - Small Price!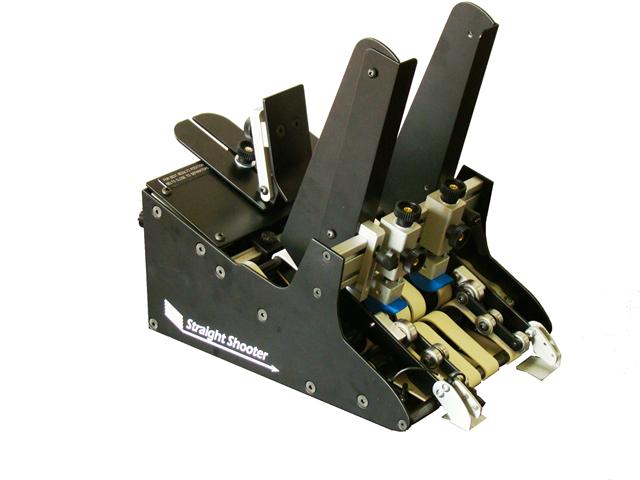 P-9 inserter feeder
The P-9 inserter feeder offers the same great features in a small package. Made for swing arm inserters, the P-9 fits right in one of the insert hoppers and offers the ability to feed hard-to feed products into your inserter
The patented P-9 features built-in paper guide extensions and an integrated photo eye so you don't have to add any components to your inserter!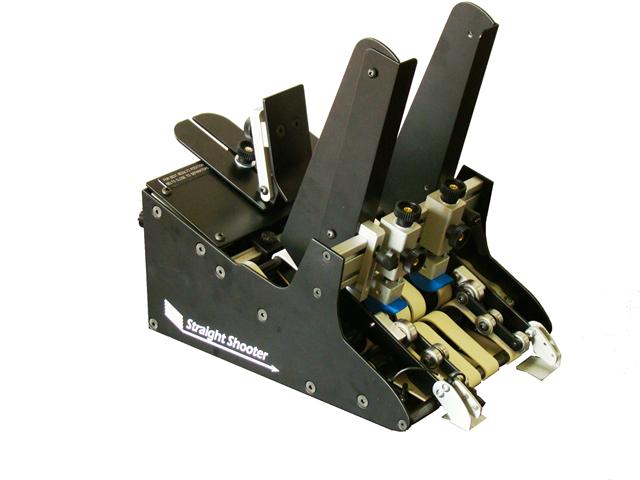 D-9 demand feeder
The D-9 demand feeder offers one-shot or continuous feeding in a small package. When you need a compact feeder to eject a single document into a collator, shrink wrap or inserting machine, the D-9 is for you!
The D-9 comes with a start photo that can be installed on your host machine to trigger the feeder at the appropriate time to eject a single document. One of the lowest cost demand feeders you can buy!