Tying and Strapping Equipment
At Econopack, we have over 30 years experience selling and servicing automated string tying and plastic strapping machinery! Give us a call with your specific needs and let us help you "wrap it up"! By eliminating the high-friction nip point common on other feeders, Straight Shooter feeders offer versatility, simplicity and ease of use that can't be found anywhere else!
Strapping equipment for your packaging needs
Our complete line of strapping machinery offers high speed, versatility and reliability. We also offer strapping in a variety of widths, thicknesses and colors.
At Econopack, we back up everything we sell with in-stock parts and supplies and factory-trained service!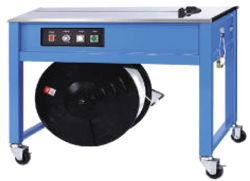 Semi-automatic strapper
Our convenient semi-automatic strapper offers a low cost
solution for mail trays, newspapers, packages and more!
No arch means no package size limits!
Uses 1/4", 3/8" or 1/2" wide strap.
110 volt, caster equipped for mobility.
Up to 14 packages per minute.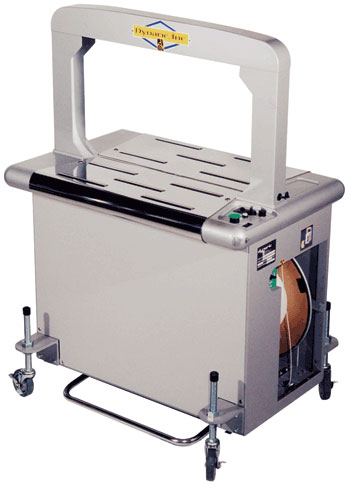 D-2100 Automatic Strapper
The D-2100 from Dynaric offers high speed, and secure bundling for the mailing, printing, newspaper and packaging industries.
Various arch sizes available.
Uses 1/4" up to 1/2" wide plastic strapping.
110 volt, caster equipped.
Convenient pedal or automatic table switch.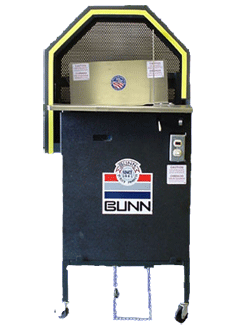 Bunn String Tying Machines
The Bunn name is synonymous with automated string tying equipment. Bunn invented the tying machine and over the years has added a wide variety of models for different industries. The models shown below are only the tip of the iceberg. If you have a unique application, chances are Bunn has a machine for you.

Model 1691
The 1691 is the ideal mail tying machine. Faster and easier than rubber banding, string tying offers a secure bundle without the hassle. The 1691 can tie bundles up to 16" square.